What is Lean Six Sigma in Nebraska?

A company's work, manufacturing and production processes, quality of the products and services, customer satisfaction, and value provided by the company are all interrelated. And managing every factor or aspect is quite hard Lean Six Sigma is a methodology that can balance all these business aspects and ensure efficiency and smoothness in the entire working of the organization. If you want to get Lean Six Sigma certified, you are in the right place.
We are the Lean Six Sigma Experts of Nebraska and are one of the top Lean Six Sigma training and consultation companies. Here is a complete guide about Lean Six Sigma and its benefits.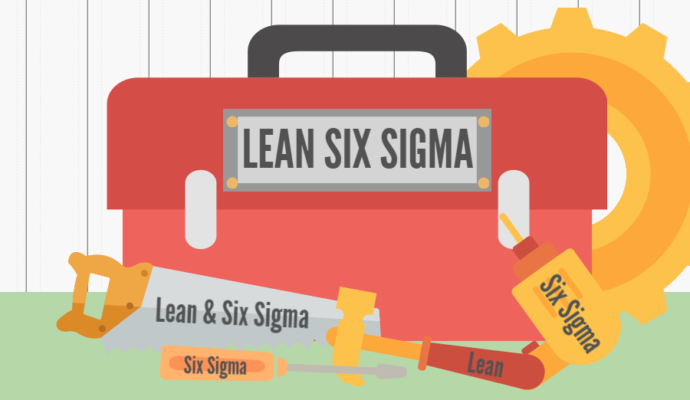 What is Lean Six Sigma?
Lean Six Sigma is a globally recognized and accepted methodology used and implemented by industries of all types. It offers various approaches to the organizations that can help them work in a systematic and structured manner.
Lean Six Sigma is known and used for process improvement. It is a great way to initiate improvement in your company, and it also leads to the company's overall growth. It works by focusing on what a customer requires and then adjusting the processes accordingly to get the expected results and increase customer satisfaction.
Lean Six Sigma works on both the processes and the quality of the processes of a company. Before a company proceeds with its processes, it always plans and predicts an estimate of the result. Many times, the results do not come up to the expectations. This happens because of variations in the processes, which happens due to the non-value-adding steps.
Lean Six Sigma implementation will help in controlling the variations so that a company can produce high-quality products and gain maximum profits. It also works on reducing and eliminating the waste produced during the processes. In short, Lean Six Sigma ensures that a company is able to save its cost, become efficient and effective in its working so that it can perform better and better every time.
What are the different levels of LSS certification?
Lean Six Sigma is divided into three levels of Belts of certification i.e. 
Lean Six Sigma Yellow Belt – It is the most basic level of certification meant for individuals/professionals who are new to the world of Lean Six Sigma. The Lean Six Sigma training and certification includes the basic introduction of its concepts and principles.
Lean Six Sigma Green Belt – It is slightly advanced than the Yellow Belt. It includes training about the DMAIC process. The Green Belts are trained to handle small projects on their own and are an important team member of the big improvement projects that are led by the Black Belts.
Lean Six Black Belt – The Black Belt is the most superior level of Lean Six Sigma certification. The Black Belts hold expertise in finding out the flaws in the system. They are trained to find solutions for the problems so that they cannot be repeated again. They are highly trained to make complex decisions and also guide the Green and Yellow Belts whenever needed.
Benefits of Lean Six Sigma Certification
---
Lean Six Sigma benefits not only the companies and organizations but also its employees as well as the certified individuals. Let us know how it can benefit you and your company: 
Career Growth – If you are an entry-level employee and are Lean, Six Sigma certified, you will get a great advantage over the other candidates. This is because most employees look for Lean Six Sigma certified candidates so that it can benefit their company. As an employee, this certification will get you a lot of career opportunities like handling big projects and leading the entire team. It can also lead to promotions and an increase in salary too.
Profitability – When the company works in a smooth manner with minimum errors, wastage, and variations, the production capability of the company increases. The company can produce high-quality products with fewer efforts, which leads to an increase in customer satisfaction and loyalty. And this usually leads to a rise in the profits of the company.

Frequently asked questions about Lean Six Sigma
---
Ans. Six Sigma is a strategy that uses statistical analysis to reduce variations, defects, and flaws in the processes. Six Sigma uses methods like DMADV or DMAIC to do what it does. It is all about identifying issues and problems and ensuring smoothness in the work processes.
Ans. Lean and Six Sigma are combined together to form the Lean Six Sigma methodology. Lean is a strategy that works towards reducing waste during work. Waste here includes waste of efforts, time, money, resources, and many other things. Six Sigma, as we told, is more focused on the betterment of the processes by improving its quality and reducing variations.
Ans. LSS Black Belt certification is a pretty complex certification to achieve. It requires rigorous preparation, proper studying, and immense training to pass the certification exam. But, with proper guidance, assistance, and training, it can become possible to pass the exam. This is why you should come to Lean Six Sigma Experts of Nebraska for the best training courses.
Lean Six Sigma Experts of Nebraska
---
We are one of Nebraska's most experienced companies and have been working for the last ten years. Our company has: 
Best Trainers – Training play an important role in your certification. Our trainers will make sure you are trained in the best ways using different approaches, and all your doubts are cleared nicely. We also provide a Lean Six Sigma curriculum for highs school students.
Expert Consultants – Lean Six Sigma implementation is pretty hectic and difficult. With the assistance of our expert consultants, it will become simple for you.
High-quality services at reasonable prices – We provide the best quality of training and consultation services without any compromise. Our prices/costs are quite reasonable as compared to the other companies. 
We promise you never to let you down. You can contact us on our helpline for more information.
There are so many areas or regions where we offer these services with most of them being cities.
However, if you need any of these services, you need to contact us. The list below comprises the areas where we offer these services.